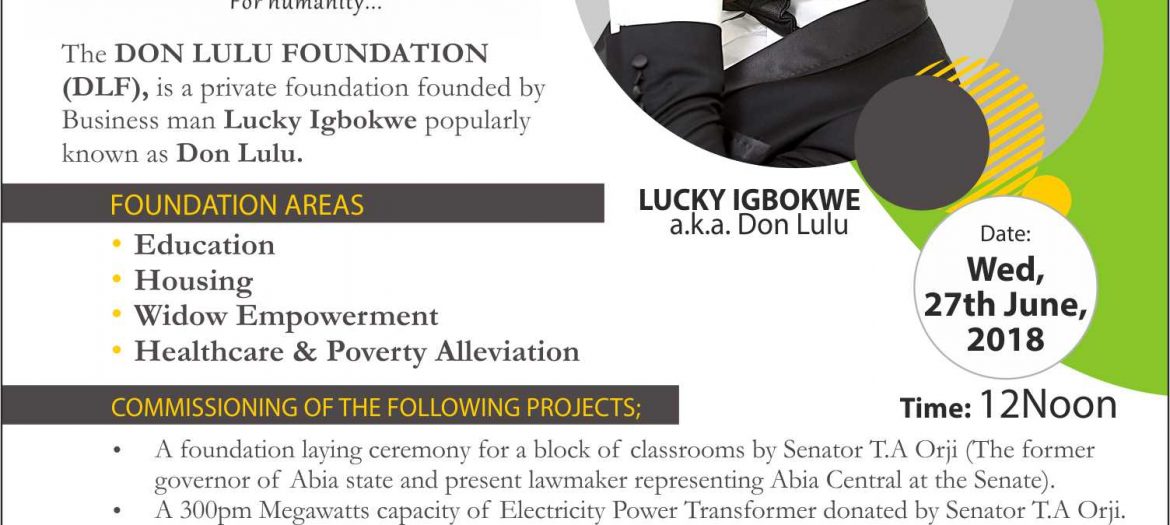 OFFICIAL LAUNCH OF DON LULU FOUNDATION
Join Business man Lucky Igbokwe popularly known as Don Lulu as he celebrates his birthday with the official launch of his foundation- DON LULU FOUNDATION on Wednesday, 27th of June 2018, in Ohuhu Umuahia North Local Government Area in Abia State, Nigeria.
Official Launch Details Below:
Date: This Wednesday, the 27th of June 2018
Venue: Central School, Umuawa Alaocha, Ohuhu Umuahia North LGA, Abia State.
Time: 12Noon
The following projects will be commissioned:
• A foundation laying ceremony for a block of classrooms by Senator T.A Orji (The former governor of Abia state and present lawmaker representing Abia Central at the Senate).
• A 300pm Megawatts capacity of Electricity Power Transformer donated by Senator T.A Orji.
• Unveiling of befitting houses for the less privileged.
• Empowerment of widows.
• 40 million Naira interest free revolving loan facility to artisans and traders.